Something monumental happened last night. It was Super Bowl Sunday and I didn't blow all my hard work on cheese, chips, dips, desserts and alcohol…A TRUE FREAKING MIRACLE!!! But here's the best part, I ate some of the most amazing food ever last night, I just planned ahead, kept it clean but still ate foods that felt SO SPLURGY.  After Miles ate the dinner, he said "I feel like I just did something wrong"…haha!
We started with an app, because it is Super Bowl Sunday, after all.  We usually get chicken wings delivered to our house on Super Bowl Sunday, so we wanted something wing-like.  I stumbled across this recipe and it was incredible.  I mean, blue cheese dressing?  Is this real life?  I can eat blue cheese dressing and not blow all the hard work I've been putting in?  Umm, yes, please!!!
Buffalo Cauliflower Bites with Blue Cheese Dressing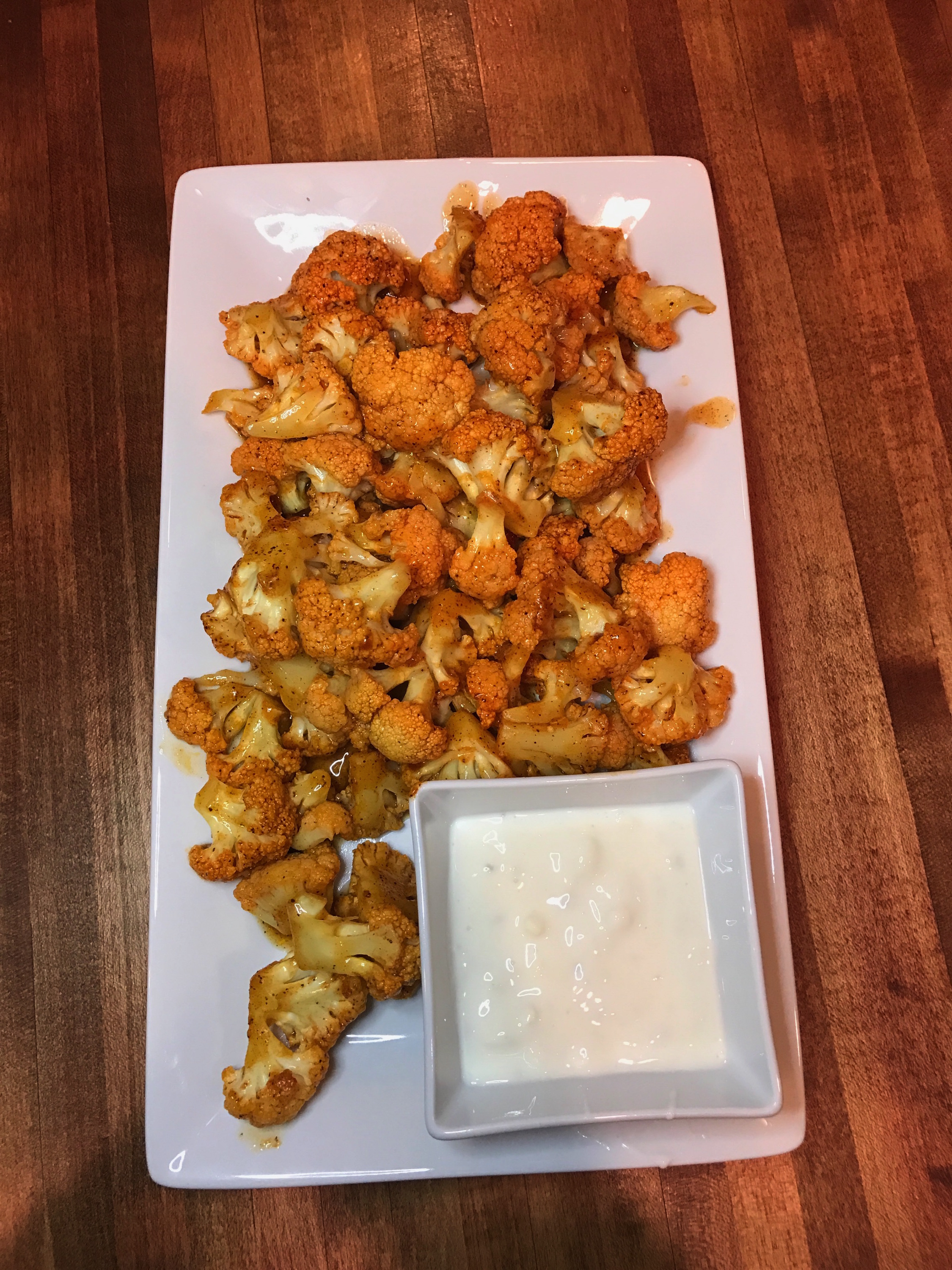 Ingredients
•½ cup low-fat (1%) plain yogurt
•2 Tbsp. crumbled blue cheese
•Nonstick cooking spray
•6 cups cauliflower florets
•½ tsp. sea salt (or Himalayan salt), divided use
•½ cup hot pepper sauce
•⅓ cup rice vinegar
•1 Tbsp. cornstarch, gluten-free (GMO free)
•2 tsp. ground chili powder
•¼ tsp. ground smoked paprika
•½ tsp. garlic powder
•½ tsp. onion powder
•1 tsp. pure maple syrup
•1 tsp. olive oil

-Preheat oven to 350° F.
-Combine yogurt and cheese in a small bowl; mix well. Refrigerate until needed.
-Lightly coat large baking sheet with spray.
-Place cauliflower florets on baking sheet. Coat cauliflower lightly with spray. Season evenly with ¼ tsp. salt.
-Bake for 20 minutes, or until tender-crisp.
-While cauliflower is baking, combine hot sauce, rice vinegar, and cornstarch in medium saucepan; whisk until cornstarch is dissolved.
-Add chili powder, paprika, garlic powder, onion powder, maple syrup, oil, and remaining ¼ tsp. salt; whisk to blend.
-Heat hot sauce mixture over medium-high heat; cook, stirring frequently, for 10 minutes, or until thickened. Set aside.
-Pour hot sauce mixture over baked cauliflower (on baking sheet); mix well.
-Return cauliflower to oven. Bake for 5 minutes.
-Serve hot with sauce.
That was just the appetizer and it was amazing.  We both were totally satisfied and not missing the wings at all!  Let's be honest, for me, the wings are just a vehicle for blue cheese sauce anyway.
Then we made a recipe that one of my coach friends posted last week.  It was about as easy as it gets and INCREDIBLE!  This will definitely be a weekly staple in this house from now on.
Greek Yogurt Baked Chicken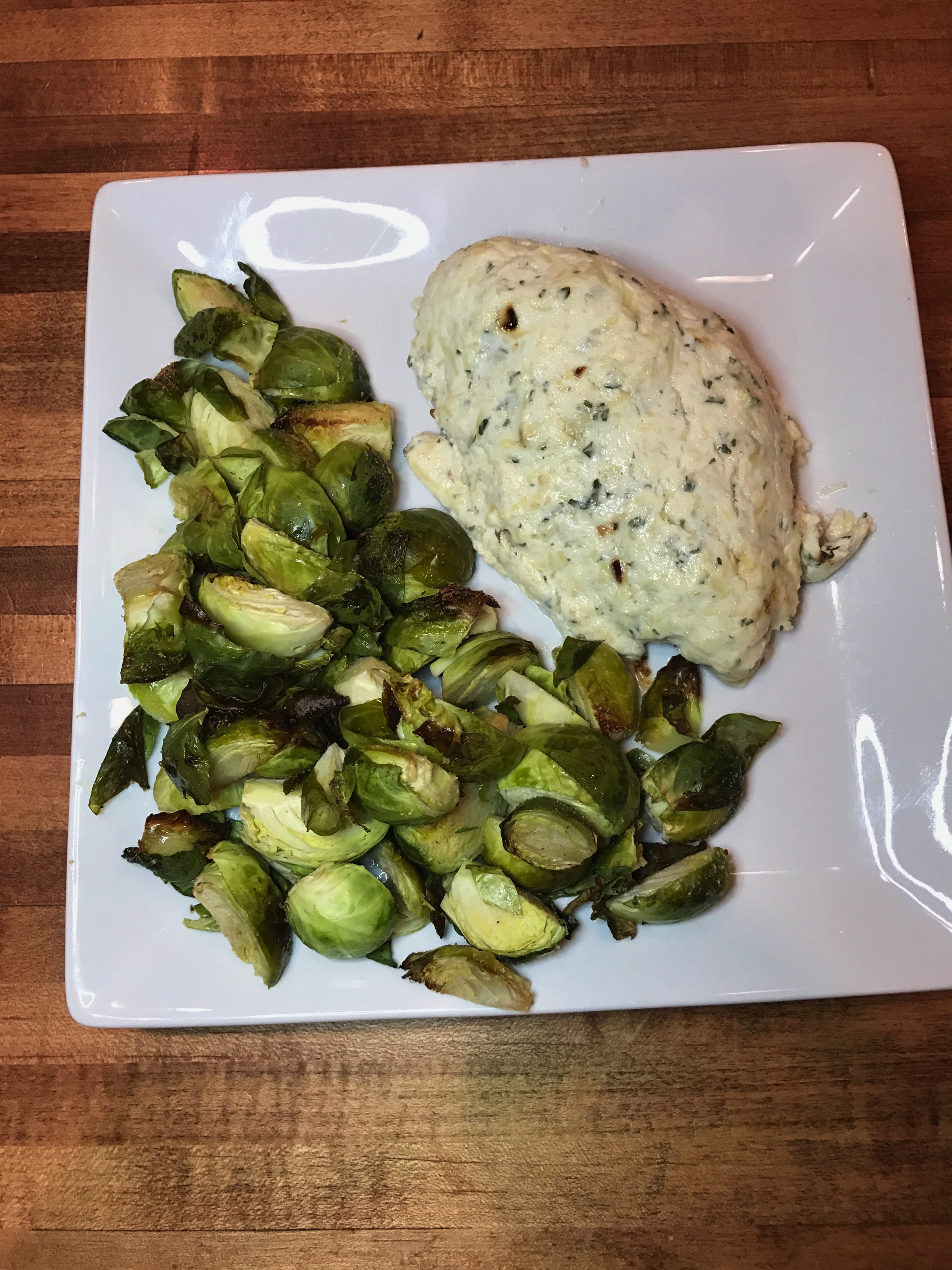 Ingredients:
•4 small chicken breasts (skinless and boneless)
•1 cup plain Greek yogurt
•1/2 cup Parmesan cheese
•1 tsp. dried parsley
•1 tsp. onion powder
•1 tsp. garlic powder
•1/2 tsp. red pepper flakes
•Salt and pepper, to taste
-Preheat oven to 350 degrees.
-In a bowl, combine all ingredients except for the chicken breasts.
-Place the chicken in a baking dish, coated with nonstick cooking spray.  Using a kitchen brush (a spoon will work too), brush the Greek yogurt mixture over the chicken.
-Bake for 25-30 minutes or until cooked through (depending on the thickness of your chicken breasts).
Try these and let me know what you think!
Save