Okay, now we are talking…CHICKEN FRIED FREAKING RICE. Okay, cauliflower rice, but it tastes the exact same and is completely and totally plan approved.  And this meal might have been the easiest to assemble yet.  I feel like there is a big difference between cooking and assembling.  I'm not a cook, but I've gotten really good at assembling (when not chopping my finger off).  I got this recipe from one of my fitness coach friends, and it is literally to die for (yes, that is a preposition at the end of the sentence).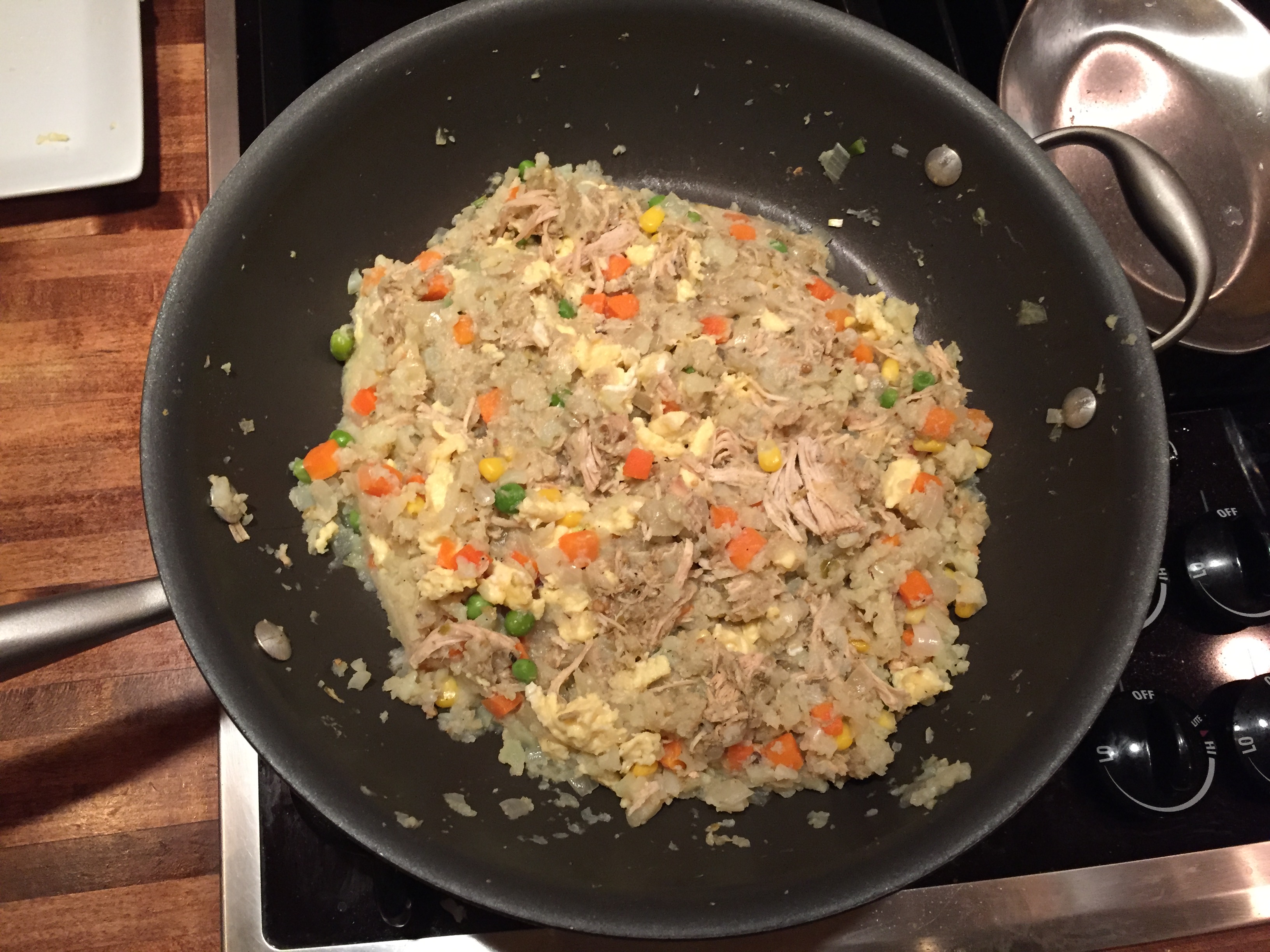 Chicken Fried (Cauli)Rice
1 bag cauliflower rice
2 tsp sesame oil
1/2 cup of frozen veggies (I used peas and carrots because that is what I already had prepped and read for my kids)
1/2 yellow onion, minced
2 eggs, beaten
8 oz of chicken breast (or whatever protein you want)
salt and pepper
green onion
peanuts
liquid aminos
Spray large skillet non-stick pan. Cook protein and put aside for later. Cook egg completely, remove from pan, and cut into small pieces to add later. Heat sesame oil over medium high heat in same pan, add onions and cook for 5 minutes. Add cauliflower rice and salt and pepper, cook for 4-5 minutes. Add frozen veggies and cooked meat, turn off heat, cover with top and let sit for 5 minutes until veggies are thawed and chicken is warm. Add cut up egg, chopped peanuts, green onions and liquid aminos and serve.
This is no joke so freaking good you will never want the real thing again. Here are a few of my notes on the recipe.  It originally called for a head of cauliflower rice and then told me to put in a food processor or a cheese grater.  Ummm…no thanks.  That shit comes in a bag and all you have to do is put the bag in the microwave and you don't even have to clean a dish.  Come on, don't make it harder than it has to be!  Also, I had the chicken ready to go from yesterday's food prep, so it had been in the crockpot with a jar of verde salsa on low for 6 hours, so it was perfect and shreddy (and doesn't get easier than that). I also had the frozen peas and carrots ready to go because that was the veggie that my kids ate for dinner tonight.  I made a huge bag, and they didn't eat all of it, so I just got to use the leftovers in our dinner. Whole Foods was out of the pre cut onions, so I made Miles chop the onion and the peanuts because I'm still scared of knives after last week's incident. I wonder how long he's gonna let me roll with that excuse!?!? Anyway, this recipe had to be shared…it's the real deal.  Make it and let me know what you think!