I've been trying to post some of my favorite, easy, must have recipes lately, but they've all been dinner. I feel like I should post the one recipe that truly keeps me on track everyday. It's the most important part of my meal prep every single week…EGG MUFFINS!
The mornings are definitely the craziest time of day for me. We wake up before the big girls are allowed to come downstairs, and we get our workout in first thing. After everyone is awake and breakfast is served, Miles and I both have the most delicious superfood packed protein shake that has ever existed. It tastes like Reese's Cup milkshake, and I literally wake up dreaming about it. I never thought I would be a "shake person", but it's delish and perfect for our morning routine. It makes my life so much easier to be able to drink a shake while the craziness is happening.
Getting everyone to the car and out the door with the right bags, waters, snacks/packed lunches, back up outfits, ponytails, etc. is what turns me into a crazy person.  It's like I'm the Tasmanian Devil (remember that guy?) spinning around my house like a tornado getting everything ready. And inevitably, no matter how organized I think I am, they walk out the door with shoes on the wrong feet and shirts on backwards, and I've just had to learn to LET THAT SHIT GO!  Anyway, as I'm rushing out the door, it's almost time for me to eat again (I have been up since 5:30, after all), and this is where I get into trouble.  So many days, I would just rush out the door not even thinking about the fact that I'm going to need to eat (because I didn't use to put myself very high on the priority list), and it would lead to me being starving, hangry and make a poor choice by eating the quickest thing I can find, which is usually some kind of processed bar at Starbucks or Whole Foods. For me, being unprepared and making poor choices leads to making more poor choices. So, being prepared and have these ready to go has completely saved me.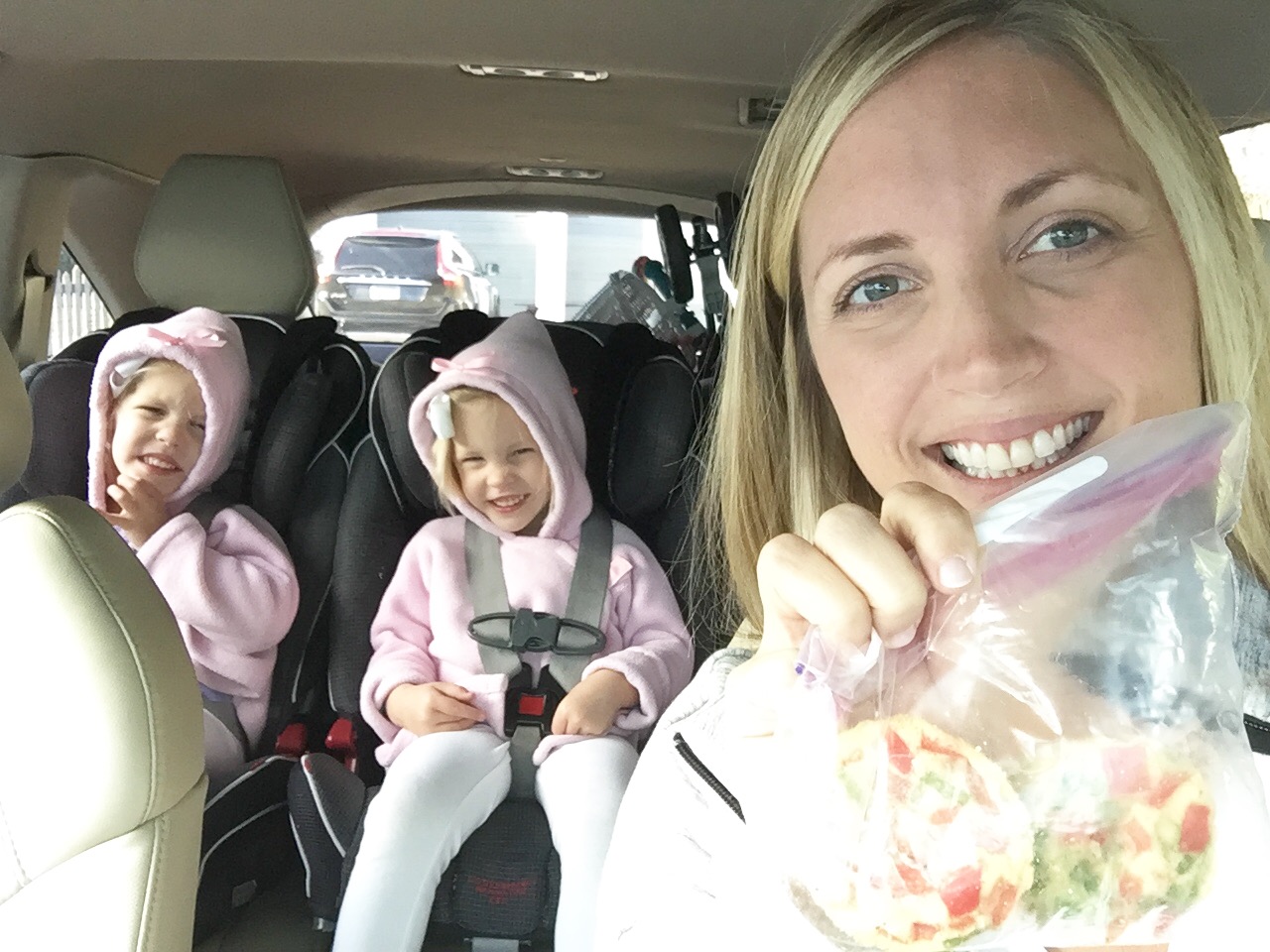 They are good cold, so I literally just throw them into a baggie, throw them in my diaper bag and run out the door.  They are so so so freaking good. We make 2 batches, 24 muffins during Sunday meal prep and then Miles and I are both set for the week.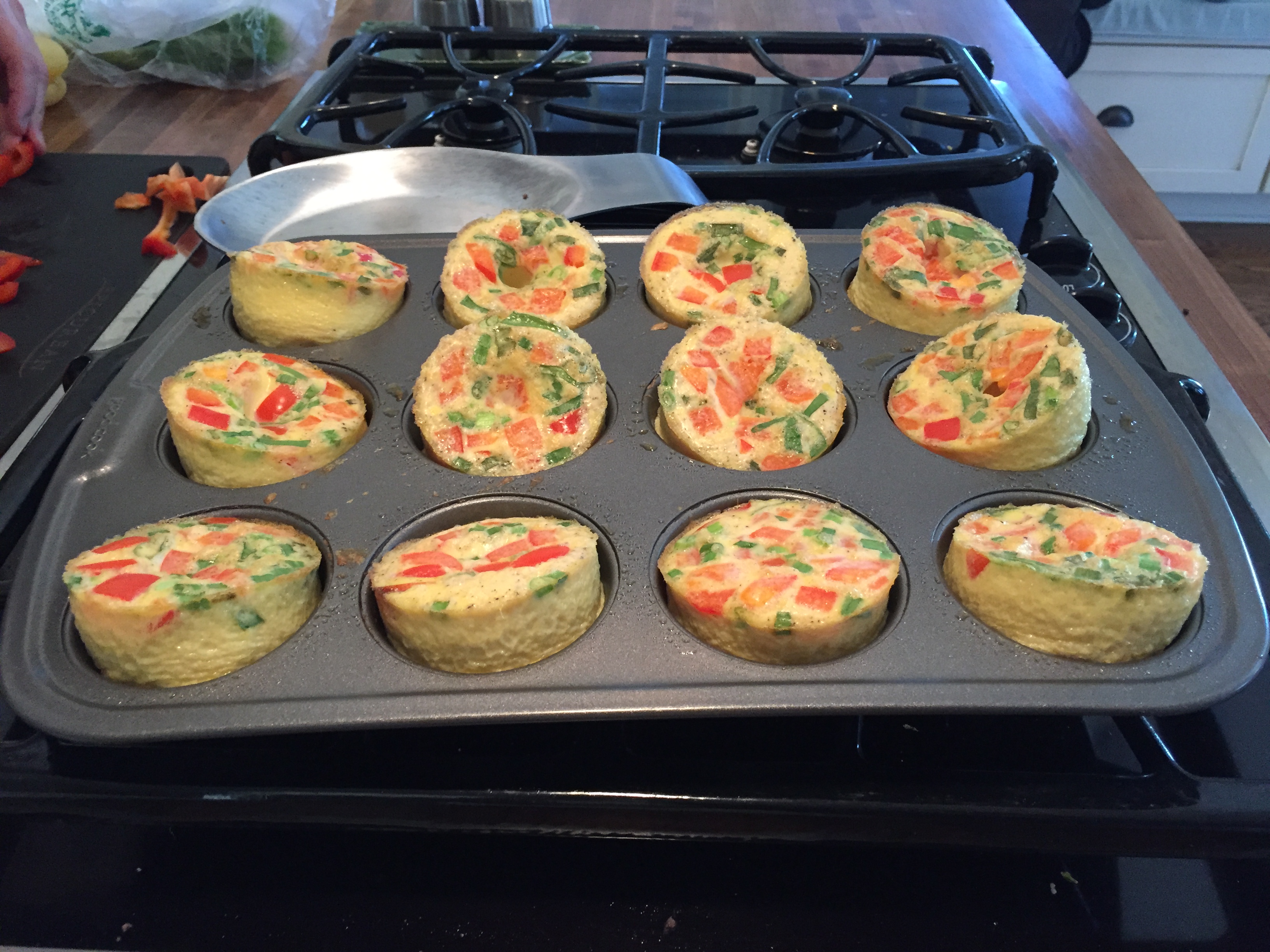 Egg Muffins
Non-stick cooking spray
12 large eggs
Sea salt
Bell Peppers- chopped
Green onions- finely slices
Spinach- chopped
1.) Heat over to 375 degrees
2.) Coat muffin tin with cooking spray
3.) Place large eggs in bowl, whisk to blend, add salt and pepper as desired
4.) Add spinach, bell pepper and onions, mix well.
5.) Pour mixture evenly into muffin tin
6.) Back 15-20 minutes, insert toothpick and make sure it comes out clean
And DONE! 12 amazing egg muffins.  Perfect for on the go.  If for some weird reason I am eating them at home and not on the go, I love to put Cholula on them.  Also, I use peppers, spinach and green onion, but you can put whatever you have and need to use in your fridge. These seriously keep me on track all week.  You've gotta try and let me know what you think.
Save